There are a number of ways that you can promote your website for free. In this blog post on 'How to Promote Your Website for Free Online', I will reveal four effective methods that you can use to get more visitors to your site without spending a dime.
This post may contain affiliate links. Affiliate links are great!
Why? Because by purchasing through these links you to contribute to the growth of this website at no cost to you. Basically, you are helping me grow this blog so I can continue help people like you and me become even more awesome!
For more information please see Affiliate Disclosure.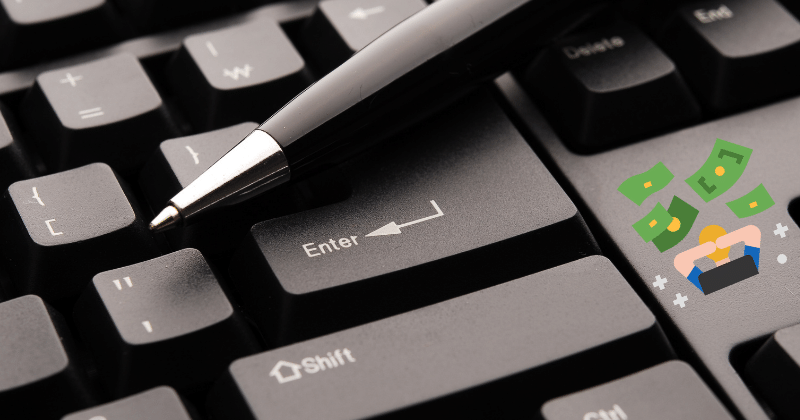 Best Ways To Promote Your Website For Free
Organically attracting visitors to your website is one of the most important things you can do to ensure its success.
Paid advertising can bring people to your site, but if you don't have good content and a good user experience, they're not going to stick around.
Search engine optimization (SEO) is a great way to make sure your site comes up at the top of search results, and there are plenty of online resources that can help you get started with SEO for free.
Here are the best strategies you can apply today to ensure your website is optimised for search engines.
Keyword Research
Keyword research is essential for on-page optimization.
You need to figure out what terms people are actually searching for when they're looking for a site like yours. Once you've identified some key terms, be sure to include them throughout your site's title, headings, meta tags, and content. However, don't go overboard with keywords; too many keywords will result in keyword stuffing, which can actually hurt your chances of ranking high in SERPs.
Use social media
When it comes to promoting your website, social media should be one of your top priorities (after SEO optimisation). After all, what other marketing tool allows you to reach such a wide audience with so little effort? And best of all, using social media to promote your website is absolutely free!
Ready to Quit Your 9-to-5 & Start Working For Yourself?
Here are just a few reasons why you should be using social media to promote your website:
You Can Reach a Wider Audience
With over 3.5 billion active users, there's no denying that social media provides you with a huge opportunity to reach a larger audience than you ever could have dreamed of.
No matter what market you're trying to reach, chances are there's a social media platform full of people who would be interested in what you have to say.
Social Media is Cost-Effective
One of the best things about using social media to promote your website is that it is free!
If you're on a tight budget, or if you're just starting out and don't have much money to invest in marketing, then social media is the perfect solution. Just spending a few minutes each day posting updates and engaging with your followers can make a big difference in how much traffic your website gets.
You Can Build Relationships with Your Target Audience
Another great thing about using social media to promote your website is that it allows you to build relationships with your target audience.
These days, people want to do business with companies that they know, like, and trust. By engaging with your followers on social media, you can show them that there's a real person behind your business—and that can make all the difference when it comes time for them to make a purchase.
Using Pinterest To Promote Your Website
I would like to dedicate a separate subheading only for Pinterest.
The reason for this is that Pinterest has become so crucial, at least for me, for promoting my online business and making sure my audience comes across my content.
Let's first take a look at what makes Pinterest so special.
What is Pinterest?
Pinterest is a social media platform that allows users to "pin" images, videos, and articles they find online onto virtual boards. Other users can then view these boards and repin your content onto their own boards if they like it.
Why is Pinterest So Popular?
Pinterest is so popular because it's a great way to discover new things online.
Whenever you're feeling curious about a certain topic, you can just type it into the search bar on Pinterest and tons of results will come up. For example, if you're interested in fashion, you can search for "outfit ideas" and find endless pins of stylish looks to try out.
What if I told you that I know just the right platform for you, which offers:
–> FREE HOSTING,
–> 24/7 TECHNICAL SUPPORT,
–> 24/7 LIVE CHAT & COMMUNITY SUPPORT to answer all your questions and brainstorm together,
–> a RESEARCH TOOL showing the exact domain names and their availability,
–> THOUSANDS OF VIDEOS AND TUTORIALS explaining everything you need to know from choosing your niche, picking your domain name, writing content, choosing affiliate marketing programs, etc?
If you answered YES to the above, make sure to check out my #1 RECOMMENDED PLATFORM and Get Started Right Away!
How Does This Help My Website?
Since people go on Pinterest to discover new things, this makes it the perfect place to promote your website.
If you have an interesting article or piece of content on your site that you think others would enjoy, you can create a pin for it and share it on Pinterest. Chances are, if people like what they see, they'll click through to your website to read the full article and potentially buy your product or the product you are promoting.
As you can see, only Pinterest alone could be a great source of attracting new visitors to your website. Imagine the impact you could have if you added Facebook, YouTube, LinkedIn, Twitter, Instagram, etc? The opportunities are endless!
Make sure your site is mobile-friendly
In today's world, more and more people are using their smartphones and other mobile devices to access the internet. As such, it's important to make sure that your site is designed for mobile devices. If it isn't, you're likely to lose out on a lot of potential traffic.
Google has a handy tool that allows you to check whether or not your site is mobile-friendly.
Keep your content fresh
One of the best things that you can do to optimize your site is to regularly update your content. Publishing fresh, relevant content will help attract attention from search engines and keep people coming back for more.
That is because, as the blogging community likes to say, content is king. If you don't give Google what to work with, there will be nothing to rank and nothing for your audience to read. Therefore, no visits to your website and consequently no sales.
A good rule of thumb is to aim for at least two new pieces of content per week. However, if you can't commit to that, even one new piece of content per month will help.
In Conclusion
So there you have it – four powerful methods that will help you get more website visitors without spending your money.
Of course, these are just the basics and there are many other ways to promote your site online. Be sure to check back soon for more tips on how to grow your business using the power of the internet!
If you have questions let me know in the comments below and I will be happy to share my knowledge and experience.
– Tatiana
from My Freedom Hustle
Are you done with your 9-to-5? Looking for a way to express yourself and make money on your own terms?
Look No Further!
Wealthy Affiliate
Wealthy Affiliate is the only platform you need to successfully start and run your online business. This is my TOP RECOMMENDATION for its training, tools, (technical) support and free hosting.
Help share these ideas with the world!