SEO, or search engine optimization, is a term that a lot of people try to understand and befriend. In this post, I will break down SEO for content writing and show you how to make your content more search engine friendly.
I will discuss thirteen simple strategies that are essential for beginners for SEO optimized content.
By following these tips, you can write articles that are both informative, add value to your readers and look great – and that will help you rank higher in searches.
This post may contain affiliate links. Affiliate links are great!
Why? Because by purchasing through these links you to contribute to the growth of this website at no cost to you. Basically, you are helping me grow this blog so I can continue help people like you and me become even more awesome!
For more information please see Affiliate Disclosure.
SEO meaning
Search engine optimization, or SEO, is the key to success on the web. If you want your website to rank highly in search results, you need to understand and master SEO.
But what is SEO? SEO is helping Google understand what your content is about.
How is SEO used in content writing?
Understanding how SEO is used in content writing means understanding how people search on the web and which keywords they use for their searches.
Additionally, it's important to ensure that your content is well-organized and engaging. You can do that by splitting big chunks of text into small paragraphs, using headlines and including visuals in your content (images, videos).
Are you looking for ways to make (more) money online?
Want to be Your Own BOSS?
However, there are also additional techniques that you can use to optimize your content for search engines. These strategies will help Google (and Bing, and other search engines) understand what exactly your content is about and rank it for those search terms.
Keep reading to find my 13 Beginner Strategies of SEO for content writing.
SEO: Setting The Scene
Before we dive into content optimization strategies, there are a few steps that have to be completed before that.
Which means, you need to already have a content that is ready to get published on an existing blog website.
Here is what exactly you need to have already sorted out:
How To Find Your Niche In Blogging?
The first step after deciding to start a blog is deciding what is it that you are going to write about.
That is important to understand as this will be your focus going forward.
You will be targeting people that have the same interests as you (your niche audience). You will therefore write content for them and try to solve their problems and answer their questions.
For more information on How To Choose Your Niche For Your Blog, you can read my other article. It will explain what is the best niche to choose and how to "audit" yourself to understand what niche is best for you.
How To Create And Find Hosting For Your Website?
The blog you are currently reading is hosted by WordPress.org.
The hosting is free, however I have purchased my domain name: MyFreedomHustle.com.
Am I happy with my free hosting with WordPress.org? You bet I am!
Did I know all the functionalities of WordPress before I got started? Did I know where to click to make my website beautiful? Did I know where to click to write and publish my very first piece of content? OF COURSE NOT! 🙂
But I learned! I started with zero knowledge and zero experience in blogging, just like everybody starting out.
How did I learn blogging?
How did I learn how to make money with my blog?
I have joined a platform that teaches everything there is to know about becoming a successful blogger. I am also recommending it with my full faith and trust: IT WILL HELP YOU TOO! Just give it a try and you will see!
Curious? Check my #1 RECOMMENDATION here!
How To Find Relevant Keywords For Your Blog Posts?
Once you have decided upon your niche, it is time to start writing content for that niche.
That means that your content needs to be relevant to your niche and needs to target your audience.
It is important to understand what type of people are looking for the information you are writing about and write your content for them!
But how do you do that? How do you know what your audience is looking for? The answer is simple: by understanding what keywords (search terms) they use to find the information they need!
You can find more information about How To Use Google To Find Relevant Keywords For Free or How To Use Jaaxy To Find Relevant Keywords For Free in my other blog posts.
How To Write Your First Piece Of Content?
When you start writing for your blog, you need to forget everything you learned in school about writing content.
Nobody is interested in reading professional explanations of theoretical things.
People want concrete answers to their questions and concrete solutions to their problems!
If you can do that, you will most certainly stand out from the other bloggers out there.
A few ideas on how to do it:
Break down your content into small, easily digestive paragraphs;
Use relevant and captive headings;
Use a friendly tone in your writing;
Speak directly to your audience and target their questions;
Experiment and have fun blogging! It is your environment to express your wonderful self!
Now that we have all that out of the way, let's dig into the strategies of SEO optimisation.
SEO For Content Writing: 13 Strategies For Beginners
1. Include Your Target Keyword In Post Title
The very first strategy that you need to follow after deciding upon the keyword you would like to target, is to include that keyword in your post title.
See below my video walk-through of the back end (WordPress) interface of this exact post. My targeted keyword for this article is: SEO for content writing.
2. Include Your Target Keyword In Meta Title
Now what is this thing Meta Title?
Correct, it is not the same as the post title that we just spoke about.
The Meta Title is the title that shows up in search results. It can be the same as your blog title or you can modify it.
What is important to keep in mind is that it should contain the targeted keyword and it should not mislead regarding what your blog post is about.
Below is a snip of how the Meta Title looks like in search results:

For my blog, I am using an SEO plug-in called All-in-One-SEO (OiOSEO). It is the original SEO plug-in that is included in WordPress. There are other plug-ins available as well, such as Yoast SEO, The SEO Framework, etc.
What is a plug-in? It is a certain addition to my WordPress hosting service that provides me with a certain functionality.
For example, the AiOSEO plugin helps me optimise my content for SEO, which in turn helps me rank higher on search engine result pages (SERPs), which allow more people browsing the web to see me and click on my articles and visit my blog. Cool right? 🙂
See below how I included my target keyword in the Meta Title:
3. Include Your Target Keyword In Meta Description
As there is a Meta Tile, there must also be a Meta Description 🙂
The Meta Description is the little snippet (under your Meta Title) that shows up in search results.
You can find it right below the Meta Title: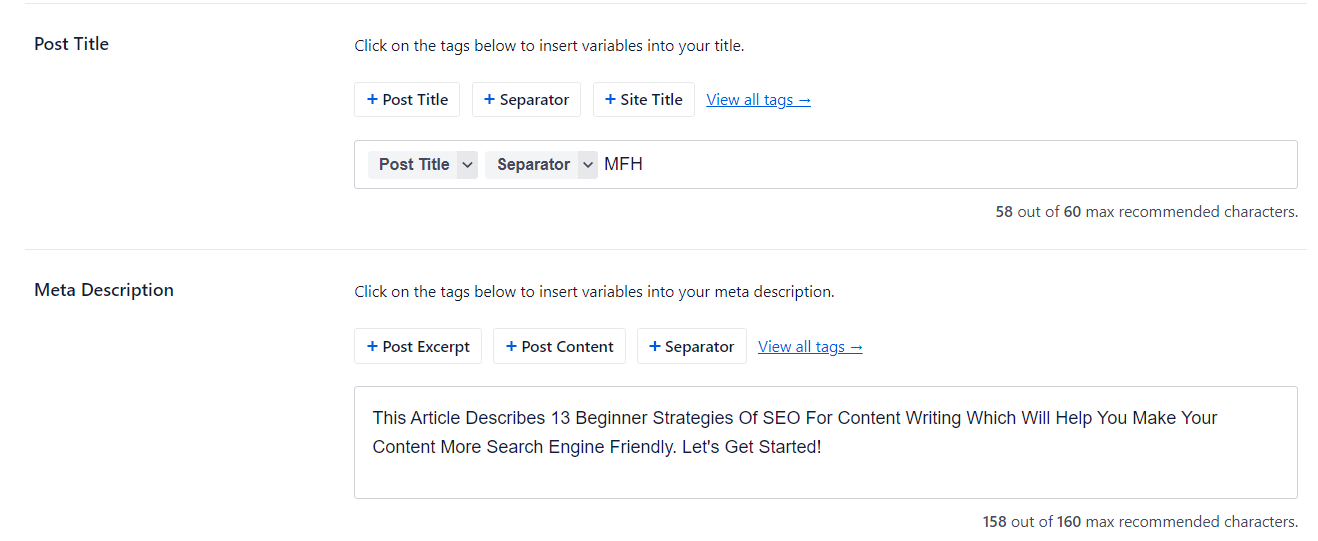 This is how it will look like when I rank in Google for my keyword:

4. Include Your Target Keyword In Social Meta Title
Social Meta Title refers to, you guessed it: the title that will show up in social media!
Let me clarify 🙂
Let's say after you publish your article, someone come around and would like to share that article on social media, say Facebook.
When shared (either via sharing buttons or by copy and pasting your article URL), the preview that will show up will include the Social Meta Title.
See below where you can find it:
5. Include Your Target Keyword In Social Meta Description
As with Meta Descriptions, Social Meta Description can be found below Social Meta Title. Refer to video above for a presentation.
6. Include Your Target Keyword In 1st Paragraph Of Your Blog Post
The first paragraph of your blog post is usually the introduction lines.
It is argued whether you should write a long first paragraph and include the keyword at the end of it. Would that still count as a first paragraph?
Remember the tip we spoke about before? Write in short paragraphs that are easier to digest. Therefore, my advice is to include your keyword in the first 5 lines of your content.
Here is my example: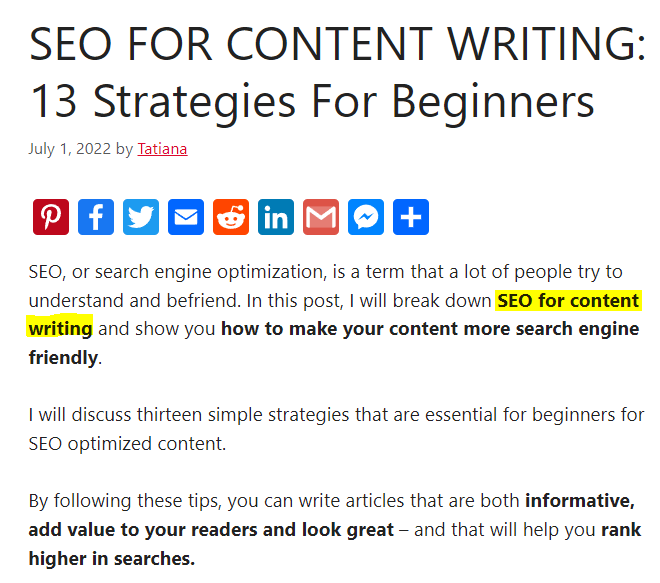 PRO TIP: For even higher conversions, you can also include your target keyword in an H1 and/or in an H2 headers.
7. Include Your Target Keyword In Image Alt Tag
In order to increase engagement with your content you can make use of visuals (images, videos).
Additionally, visuals give you an extra boost for SEO, because they provide additional "places" to include your targeted keyword.
Here is how to include your targeted keyword in the Image Alt Tag (or Alternative Text):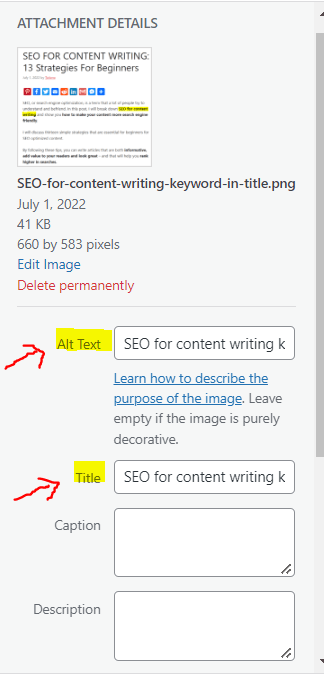 8. Include Your Target Keyword In Image Alt Title
Image Alt Tile (or Image Title Attribute) is below Image Alt Tag.
9. Include One External Link To Authority Website
For example the article you are reading now has an external link to Wikipedia, explaining what search engine optimization is. Did you find it?
Below is a walk-through video on how to include an external link:
10. Include One Internal Link To Another Post On Your Website
This is a great way to keep all your blog posts active while providing an all-round solution to your readers.
For example, in the beginning of this blog post I have included a link to one of my articles on how to find relevant keywords for free. If you did not see it, here it is.
Below is a walk-through video on how to include an internal link:
11. Embed Or Include A Video In Your Blog Post
You can embed YouTube videos into your blog post.
Alternatively, what I did with this blog post, I used Loom to record my videos.
Either way you choose, below is a video on how to embed your video link in your blog post:
12. Include One Social Image In Your Social Settings
This derives from points 4 & 5 above. When someone shares your blog post in social media, it previews with the Social Meta Title (step 4), Social Meta Description (step 5) and with the Social Image.
See below the video on how to add it:
13. Include A Strong Call To Action (CTA) At The Bottom Of Your Blog Post
A call to action means encouraging your readers to do something: click somewhere, leave their emails, comment, etc.
It can be an effective way to boost conversions and encourage your audience to take the next step.
Make sure to check out my CTA, you will not regret it!
In Conclusion
Here you have my tips and tricks for beginner friendly strategies that will increase your chances of being discovered by search engines and attracting more readers to your blog.
In case of any questions, feel free to ask me in the comments section below.
Are you secretly dreaming of having your own online business and be your own boss? Do you want to learn how to have a website, just like this one? Check out my #1 RECOMMENDATION at no risk to you!
You will get: free training, website hosting, 24/7 technical support, 24/7 community support, loads of lessons and tutorials to get you started and keep you going and a lot more. ALSO, you will get a privileged chance of getting guided and helped by me personally!
Don't believe me? CHECK IT OUT for yourself!
SAVE and SHARE & SHOW you CARE!
– Tatiana
from My Freedom Hustle