In this article on Wealthy Affiliate Review, I look at the program more closely and explain how you can benefit from it in the path to your freedom.
Over the past couple of years I have been a member of Wealthy Affiliate platform.
Ever since I joined, I realized that even people like me, with no technical background, can manage to have an online business. All of that became possible due to WA.
Regardless whether you are looking for ways to make money online, learn about building a business online, searching for a side hustle, WA is the platform that can offer it all and even some more.
Key Facts About Wealthy Affiliate:
Name: Wealthy Affiliate
Website: www.WealthyAffiliate.com
Owners: Kyle Loudon and Carson Lim
Price: $0 for Starter Membership
Overall Rating: 4.8/5
Recommended: YES
Keep reading for more facts and figures below.
This post may contain affiliate links. For more information please see our Affiliate Disclosure.
In a nutshell, Wealthy Affiliate is a learning platform for affiliate marketing, SEO, keyword research, building a website, as well as it is a community where everyone shares their knowledge, success and learns from each other.
At first, when you just start out, you will be impressed by the warm welcome that you will receive from everybody and the amount of support and help that the community is ready to offer.
To join you will need to create an account. Creating an account is free and gives you access to some modules of the program. You will be able to learn what is a niche and how to choose the right niche for your, you will create your very first website on a free domain called siterubix.com, you will write your first pieces of content, get introduced to SEO (Search engine optimization) and keyword research.
The fun part about it all is that there is no risk to you! You can create your account and experience the Beginner Package (we will talk about the packages later on) completely for free! That's right, you get a trial period in which you get access to limited features on the program that will cost you nothing.
That allows you to navigate the platform and see how it is structured, who are the trainers and how they teach, decide for yourself whether you like it or not. You will decide whether you want to continue your journey with Wealthy Affiliate or not, completely for free.
What Will You Be Doing Exactly?
Once you join WA, you will be exposed to the training available within the platform. The training is structured based on your interests, or rather on whether you know exactly what your interests are.
Therefore, when you join Wealthy Affiliate you are faced with two choices:
Follow your own passion and create an online business around it (Online Entrepreneur Certification), or
Become an affiliate for Wealthy Affiliate and learn how to promote it effectively (Affiliate Bootcamp).
Online Entrepreneur Certification
You should choose Online Entrepreneur Certification if you already know what your passions and interests are. In addition, you should be excited about creating a website around it, research the topic and write about the topic.
Affiliate Bootcamp
Otherwise, in case you cannot decide upon what it is that you would like to write about, WA is here to help again. The second option of the training is focused on promoting Wealthy Affiliate as an affiliate.
This basically means that first you get to try the platform yourself first, test it and see what you like and dislike. Then, create content that can then help other people in their journey of searching for a place to learn affiliate marketing as beginners.
The choice is fully yours. Whichever path you take, you will be learning about affiliate marketing and how to build an online business as a beginner.
Additionally, you can always change your learning track if you decide so.
Who Is Wealthy Affiliate For?
The short answer to this question is that Wealthy Affiliate is for everybody. The longer answer is that Wealthy Affiliate is for everybody who:
Understands and is able to read in English (the videos and written text on the platform are in English);
Is willing to start an online business and learn how to make money online;
Is dedicated and hard-working;
Is willing to follow the training on the platform and continuously learn;
Is a complete beginner to making money online and affiliate marketing;
Is experienced in making money online and affiliate marketing;
Has a hobby, an interest, a passion that he/she is eager to share with the world and make (affiliate) sales online;
Is searching for ways to make money online;
Is looking to learn about SEO, keywords research, optimize his/her own website;
Is eager to be part of a community where we support, help and encourage each other 24/7; etc.
Therefore, if you find yourself in any of the above bullet points, WA is for you!
Additionally, you might find other advantages for yourself that are not in the list above. For example, you might realize that you do not like writing content as much. In that case, the trainings about YouTube or outsourcing content creation might add most of the value for your journey at WA.
Wealthy Affiliate Review: Member Plans
Below are the available member plans and what they include:
I recommend starting out as a Starter member. The reason for that is so that you can see for yourself what the platform offers and decide whether it is something for you. The Starter package will give you access to the first 10 lessons. When going through the lessons you will understand how the content is structured, how the teachers are talking and explaining everything, how the community is responding, how you can actually build your own website for free, etc.
It can be that after the free period you realize that this is not for you. In that case, at no risk you can decide not to continue with the trainings and not take this journey any further at no risk and no expense to you.
However, if you decide the contrary, new opportunities and a new wold of online possibilities will open in front of you. You will then never know what is inside Wealthy Affiliate. It is therefore your choice! 🙂
What are you getting as a WA (starter) member?
When starting out for free, everybody gets a Starter package. The starter package includes the following:
1) Access to one free website
As a beginner member you will get access to a free website that you can create on the free domain siterubix.com. The free domain looks exactly like a paid domain. You can do the same exact things: pick a niche, pick a domain name, install a theme, write your first page, write your first post, install your first plugin, create menus, etc. The only difference that a free domain has compared to a paid domain is that it will take a lot longer to rank and therefore it will take a lot longer to get discovered by your audience.
It is therefore advisable in the long run to 'transfer' your website from the free domain on to your own, paid domain. Luckily Wealthy Affiliate allows this option and it is completely up to you if you want to do that.
In addition, having access at first to one free domain allows you to get a feel of the WordPress back office, see how things work and practice. Equipped with this knowledge, if going forward you decide upon your own website, you will know exactly what to do!
2) Seven days limited support
For the first seven days you will receive 24/7 support. That will allow you to:
Ask questions to the community and get (almost) instant help;
Participate in the live chat and ask your questions live;
Submit a ticket to SiteSupport (technical support only, more about it below);
Get access to instant messaging and message anybody in the community directly, etc.
The first seven days allow you a sneak peek into the whole pool of opportunity that WA platform offers. All of it completely free.
3) Level 1 core training
Level 1 core training consists of 10 lessons. These exact 10 lessons teach the fundamentals of how Wealthy Affiliate works and will help you in the first steps towards your online business. Each lesson has a text content as well as a video content associated with it that will not just tell what to do but also demonstrate and show exactly the steps that need to be taken.
These are the accomplishments, as claimed by WA and fully recognized by my training on the platform:
Setting up your account profile at Wealthy Affiliate
Interaction with fellow expert marketers and aspiring marketers via live chat
Understanding the process of earning money online
Choosing your own niche from scratch
Creating your very OWN niche website
Setting your website for massive success in search engines
Activating website extensions that add many new website features
Understanding how to create, find, and install one of over 20,000 plugins on your website
Create your very first page of content on your niche website
Create relationships with others here at WA and developed your own following
Receive timely help/support when you needed it
Understand the process of finding low competition, high traffic keywords
Create a list of a bunch of awesome keywords
Create valuable content within your niche that is getting RANKED in Google
Learn new skills that will lead you to long term SUCCESS
Source: Wealthy Affiliate email message
Additionally, you can see below some member reviews of Level 1 core training:
If you think about it, only these 10 lessons bear an enormous value in themselves. You can learn so much and all for free and at no risk to you!
This Platform Will Change Your Life!
4) Jaaxy starter
Before explaining what the starter package includes regarding Jaaxy, let me say a few words about what Jaaxy is 🙂
Jaaxy is an integrated tool within Wealthy Affiliate platform that is used for research. It is used primarily for researching keywords. Jaaxy also helps gaining new topic ideas, structure the ideas that you would like to pursue and make wise decisions regarding the topics that you would like to write about.
This is how Jaaxy looks like:
As you can see you can write your target keyword or your main topic of interest in the search bar above.  Jaaxy will then return various metrics regarding the phrase searched but also will populate a list with related keywords. Those additional keywords suggestions are a huge help when deciding upon your next post to write!
As a starter you only get 30 searches within the tool, so make them count!
5) Site Content / Editor
Did I already mention that WA platform comes with everything you need to run a successful online business? It even has a built in editor that allows you to create your best content at the easiness of a button press:
I am even in the Site content editor right now. This content is currently being written there, it is just so easy to do!
When accessed you are prompted to chose between a blank document or a writing template. A writing template is a pre saved template that helps you in writing your future content. There are some templates that are saved for ever member like for example: About me page, Privacy policy page, Content rich post, etc.
There is also the possibility to create your own writing templates. Let's say that every time you write a review post you prefer a certain order or you would like to have to same closing text. You can write that only one time and then save it as a template on your account. In the picture above, the template with a green title 'Product review template' has been created by me. But let's say you would like to create the About me page and you click on the template. This is how it looks like:
On the top and the very bottom in green you can find the writing goals. That is the recommended number of words, paragraphs and headings. At the top of the page you can also insert the title of your page or post.
Further you get a few more options that help you customize and enrich your content. H1-H3 are the headers options that you can use for your content headers, with H1 being the biggest header (for the main headers) and H3 the smallest. Next to the 'H' headers there is 'p' which stands for normal content (that is not a header).
Further, you can also write your content in Bold, Italic or Underline. You can also choose different alignment styles.
The chain sign represents the option to link to external sources from your content, be it an external post, internal post or document. You can also create lists and insert a line to separate your content.
The image button allows you to add various images or snapshots to your content. There is also the option to search through a ton of stick images, edit the chosen one and insert directly into your content.
The last button with 'ABC' on it is the grammar check. One of the last steps I always perform before I publish my content is do a grammar check. See, I am not a native English speak and a lot of us are not. That is why it is important to make sure that each word is spelled correctly and the sentences make sense.
The content editor auto-saves your progress as you keep writing but you can also hit the 'Save' button on top right of the screen (I have not captured it in my print screen). Or, you can choose to publish directly to your website, which is also possible directly from Site content.
As you can see, the editor has a lot of useful features incorporated to make it as easy as possible to write a lot of good content.
Now that you have read and somewhat seen what the Starter membership offers and what the other packages offer, you are probably wondering whether all of this is legit? Is it safe to join this platform or is WA a scam?
In my own experience, I found that joining Wealthy Affiliate has enormously increased my knowledge of the online business and provided me with all the needed tools to be successful online. I mean, where would you learn to build your very own website, customize it, learn about niches, keywords, SEO, ranking in Google while at the same time get your questions answered, get community help, technical help and just learn all these many basic things that you need to know to run a successful website and online business completely for free?
Sure there are tons of YouTube videos and a lot of free advice on the internet, however, how do you know who to trust? What are the credentials of the people teaching you?
At Wealthy Affiliate, the teachers are experienced affiliate marketers who have been making a living from their online business for years. Here are some of their profiles:

And as there are no great teachers without great students, here are some of WA students' testimonials:

Therefore, regardless of the route you choose to follow at WA (create your website within your chosen niche or choose to promote WA) success is just around the corner, as the reviews above prove.
Are there any disadvantages when joining Wealthy Affiliate?
Everything is in English
Unfortunately, one of the pre-requisites of fully benefitting from Wealthy Affiliate is that you need to posses a good level of the English language. That is not to say that you need to create your website in English. You can choose any language for your own website.
All the trainings and all the content on the platform is in English. Additionally, the pre-recorded lessons do not have subtitles. That means that you need to have a good understanding of spoken and written English.
A wealth of information
This is one 'discomfort' that I have experienced when just joining WA. The amount of information that the platform contains is huge.
From the lessons to trainings and to people welcoming you, it was a bit overwhelming in the very beginning. But that quickly goes away once you make your way through the first lessons and understand exactly how everything works.
What about BONUSES when joining the platform?
There will be no fun without any bonuses! 🙂 There are a few bonuses that you would not want to miss:
1) Upon sign up you will receive a welcoming message from me (within 1 hour) and the opportunity of direct guidance if you need it. Under the Starter membership that option unfortunately only lasts for 7 days.
2) 1-on-1 help from any community member and the opportunity to ask your questions and post your very first piece of content on your WA profile. Believe me, you will receive valuable help and reactions in no time! Again, this feature is only available for the first 7 days under the Starter membership.
3) Only during the first 7 days you will receive the possibility to upgrade to Premium membership at a discounted rate of more than half of the value (61% discount!) of a Premium membership!
But that is NOT ALL!
Because you are special to me, when you upgrade to premium you will receive an additional BONUS from me! Claim your free trial and FIND OUT what it is about!
Here is how to claim your BONUSES:
Receive your welcome message from me (and many others)
Start the training, build your first website for free and get to know (most of) WA perks
Upgrade to Premium membership within the first 7 days and get a discount on your first month Premium membership of 61% (only $19)
Receive the ADDITIONAL BONUS from me. Find out what it is all about in the welcome message!
LIKE and SHARE and SHOW you CARE!
To Summarise What We Have Talked About:
Name: Wealthy Affiliate
Website: www.WealthyAffiliate.com
Owners: Kyle Loudon and Carson Lim
Price: $0 for Starter Membership
Overall Rating: 4.8/5
Recommended: YES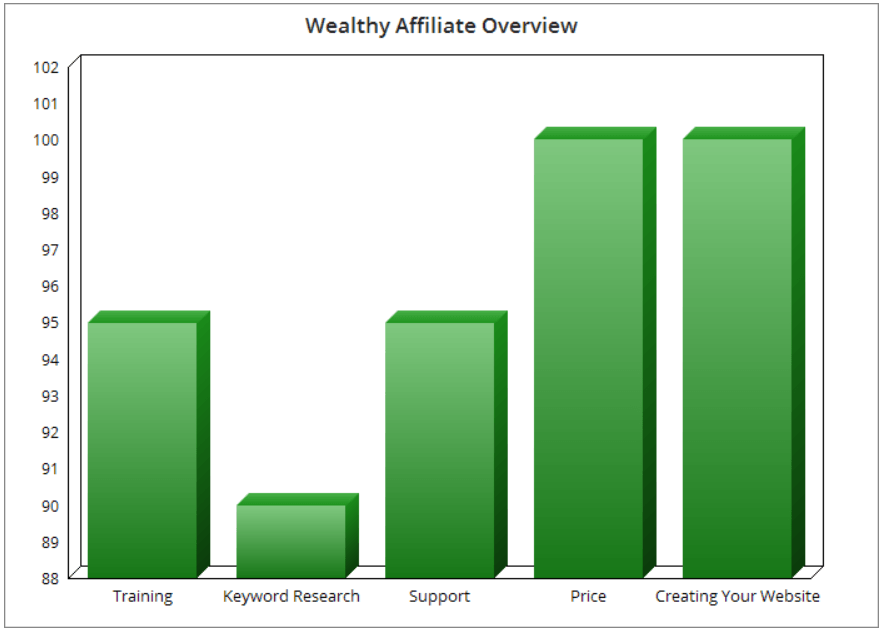 I am Happy to see that you have made it so far down this article reading all about Wealthy Affiliate.
I will be my pleasure to see you joining the platform and creating the life of your dreams for yourself and the loved ones! Join me in our Hustle towards Freedom!
This Platform Will Change Your Life!
– Tatiana
from My Freedom Hustle