Blogging can be a great way to share your thoughts and experiences with the world, but it can be difficult to know how to find your niche in blogging. Everyone has their own interests, passions, and perspectives that they can offer to the blogosphere, but it can be hard to determine where to start.
Also, it can also be a great way to build an audience and connect with other bloggers.
This post may contain affiliate links. For more information please see our Affiliate Disclosure.
When it comes to finding your niche, the most important thing is to be yourself. Don't try to write about topics that you don't care about or that you're not interested in. Write about what you know (or would like to learn) and what you're passionate about. The rest will fall into place.
What is a blog niche and why does it matter
A blog niche is a specific topic or area that a blogger decides to focus their writing on. Also, it can be anything from travel to fashion to food. The important thing is that you choose a niche that you're interested in and passionate about, because you'll be writing about it a lot!
But before we go any further, let's discuss what is the definition of niche.
A niche is simply a specific topic that you focus on in your writing. Finding a focus will help you to appeal to a certain audience and build a following more easily. Once you've found your niche, stick to it! Don't try to be everything to everyone – it's impossible, and you'll just end up spreading yourself too thin.
Why is choosing a niche important?
Are you looking for ways to make (more) money online?
Want to be Your Own BOSS?
Well, it can help you focus your content, attract readers who are interested in your topic, and build up a reputation as an expert in your field. Also, it can also make it easier to monetize your blog, because you can target ads and sponsored posts to your specific niche audience.
How to find your niche in blogging
Here are a few tips to help you find your niche in blogging:
1. Find a topic that you're passionate about.
This is the best way to ensure that you'll enjoy blogging and that your posts will be interesting to read.
2. Think about what you're good at.
Do you have a lot of knowledge or experience in a certain topic? You could share this knowledge with the world through blogging.
3. Choose a specific audience.
Do you want to blog for other bloggers, parents, entrepreneurs, or a specific group of people? By targeting a specific audience, you'll be able to better focus your content and make it more relevant to your readers.
Additionally, you would want your audience to be interested in learning about the topic online and to be searching for products in that specific niche, which you can then also promote through your content.
Therefore, your niche is a topic that you have passion for, you have sufficient knowledge about (or a willing to put in the time and effort to learn about) and for which there is an existing market or a group of people who are interested in reading about the selected niche and buying the products in that niche. Your audience will want your content to either solve one of their problems, like how to get rid of acne or that will bring them happiness, like best yarn for knitting.
To exemplify, your niche selection would look something like that: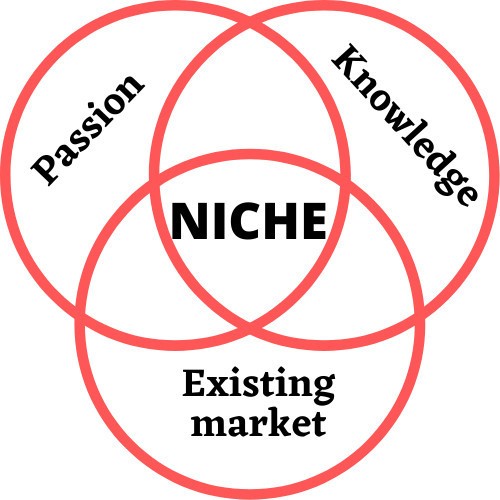 4. Be unique.
There are millions of blogs out there, so what makes yours different? Find your own voice and style and use it to stand out from the rest.
5. Experiment.
Don't be afraid to try new things and experiment with your blog. You never know what might work and what might not, so it's important to keep an open mind.
What is also important to note is that choosing a niche should not be done based on what you think is a "perfect" niche, or a niche that is considered to be profitable. Your niche should mainly evolve around your passions or your interests.
All niches out there have opportunities and competition. Therefore, the most successful attribute that will differentiate your niche blog from another is the consistency and quality of the content provided to your audience. That will, in the end, allow you to stand out from the competition and put your content in front of the right people.
Yet to be able to do that, to be able to stay invested in your niche and keep learning about it, the main prerequisite is your passion and interest in it. Otherwise, it will just become another type of 9 to 5 job or periodic choirs that you have to do.
Finding your niche in blogging can be a challenge, but it's definitely possible if you use these tips. Do some research, think about your interests and passions, and most importantly, have fun with it!
Examples of popular niches in blogging
There are countless niches you could choose to focus your blog on, but here are a few of the most popular ones:
Travel blogging – if you love to travel, share your stories and experiences with the world through your blog.
Fashion blogging – share your latest fashion finds, style tips, and runway looks with your readers.
Food blogging – if you're a food lover, share your recipes, cooking tips, and restaurant reviews with the world.
Parenting blogging – share your parenting experiences, tips, and advice with other parents.
Business blogging – share your insights and advice on starting and running a successful business.
Technology blogging – keep your readers up-to-date on the latest tech news, gadgets, and trends.
Personal finance blogging – help your readers manage their money by sharing your financial advice and tips.
Relationship blogging – offer advice and insights on love, dating, and relationships.
Health and wellness blogging – share your tips and advice on staying healthy and living a balanced life.
Fitness blogging – help people achieve their fitness goals by sharing your own workout routines, nutrition advice, and more.
As you can see, can see the possibilities are endless. All it takes is to define yourself in these topics and decide to take the first step, which is: Start your own niche blog today!
Want to know how? Keep reading as I will reveal to you the easiest way to emerge on the blogging path with just a few clicks away.
Broad and narrow niches
A niche should be broad enough to have sufficient topics to write about and narrow enough to be able to attract the right audience to your content.
Let me explain 🙂
Let's say that you choose a very narrow niche: parrot toys. In that case, your content will only evolve around toys for parrots. That gives pretty small choice for content writing. Maybe you can write 10, 20 or 50 articles about all the toys for parrots you can find and that would be the end of it.
However, if you plan to be emerged in your niche for the upcoming 2, 3 or 10 years, you need to have a niche that is broad enough to keep learning about, keep writing about, keep engaging your audience and keep finding sufficient products to promote.
On the other extreme, your niche should not be too broad either. Getting back to our previous topic with parrots, too broad would be writing about everything related to birds. Imagine you choose "birds" as your niche. You would then write about wild birds and domestic birds. You would also write about habits and lifestyle of wild birds but also care and benefits of owning domestic birds.
Help share these ideas with the world by re-pinning:
As you can see, can see, the main topic of your blog (your niche) would then be too broad.
Additionally, let's say someone like me, who loves parrots, would end up on your website in search for parrots related information. I might find a few articles of interest to me but would I come back to this website again? Probably not, given that the content is not exactly what I am looking for and it does not indicate to me that behind the content there is an expert in the subject matter that I am searching for.
My advice is therefore, choosing a niche that is not too broad, that it "dilutes" your audience and your focus but is also not too narrow, that you run out of ideas after the first 10 blog posts.
In our case something related to pet parrots or wild seagulls for example could be a good idea.
As you can see, choosing a niche relating to pet parrots or wild seagulls gives you a specific direction while still have sufficient content to write about and products to promote.
In time, as you keep learning about your niche and writing more and more content on your website, you will become an expert in your topic. Your blog will become a trusted website that will build authority with Google. That means more people will be able to find your content organically and you will have more opportunity to create a successful and profitable business online.
How to get started with blogging today!
Blogging is a great way to share your thoughts and ideas. Also, it can also be a great way to make money, if you do it right. But where do you start? How do you find your niche in blogging? And how do you get people to read your blog?
Here are some tips on how to get started with blogging today:
1. Choose a catchy name for your blog.
This will be the first thing that people see, so make it something memorable and eye-catching.
2. Find your niche.
What are you passionate about? What do you have to say that others will find interesting? Narrow down your focus so that your blog is unique and specific.
3. Write quality content.
This is the most important part of your blog – if your readers don't like what they read, they won't come back. Make sure your posts are well-written, interesting, and informative.
4. Use keywords wisely.
When you're choosing keywords for your blog posts, make sure they're relevant to your topic and that they'll help people find your blog when they search for it.
5. Optimize your blog for search engines.
This will help people find your blog more easily when they're searching for related topics.
6. Promote your blog.
Tell your friends and family about it, post links on your social media profiles, and submit it to online directories.
7. Be patient.
It takes time to build up a following on a blog – don't get discouraged if you don't see results right away. Keep writing quality content and promoting your blog, and you'll start to see results over time.
Blogging can be a lot of fun, and it can also be a great way to express yourself. If you need guidance and would like to learn how to apply all the above steps to create your own successful blog online, check out my #1 Recommendation for Affiliate Marketing and join our community for FREE Today!
Concluding on finding a niche for your website
A blog niche is the area of interest that you write about on your blog. It's important to choose a topic for your blog because it will help attract readers and keep them coming back for more content.
Consider what kinds of topics interest or concern you most, and make sure there's enough demand for a blog in your chosen niche. To get started with blogging today, simply choose a niche that you're passionate about and start creating content around this topic. If you need help to get started, check out our review of the #1 Recommendation for starting a blog for free!
As you can see, can see, finding your niche is important for several reasons:
Attract readers and keep them coming back for more content.
Differentiate your blog from all the other blogs out there.
Focus your efforts on creating content that is most relevant to you and your audience.
Also, it can be a great way to build an audience around a specific topic or interest.
So, what are you waiting for? Start brainstorming about niches that interest you and get started with blogging today!
This Platform Will Change Your Life!
– Tatiana
from My Freedom Hustle