As a content creator, you know that there are different types of content out there. And as a WordPress user, you also know that there are different ways to create and manage that content. In this post on 'How To Create Content On WordPress', I will take an inside look at the different content types in WordPress and how you can use them to create better content for your website or blog. That's coming up!
This post may contain affiliate links. Affiliate links are great!
Why? Because by purchasing through these links you to contribute to the growth of this website at no cost to you. Basically, you are helping me grow this blog so I can continue help people like you and me become even more awesome!
For more information please see Affiliate Disclosure.
What Is WordPress?
WordPress – A Content Management System for Everyone!
WordPress is a content management system (CMS), which is used to create websites and blogs.
It is a free, open-source platform that is used by millions of people around the world. WordPress was first released in 2003 and has since evolved into the most popular CMS on the web.
Why WordPress Is Popular?
WordPress is popular because it is easy to use, even for beginners.
You can create a website or blog without knowing any code. There are thousands of free themes and plugins available, which you can use to customize your site. WordPress is also very flexible, so you can create any type of website you want.
Another reason why WordPress is popular is because it is free.
What if I told you that I know just the right platform for you, which offers:
–> FREE HOSTING,
–> 24/7 TECHNICAL SUPPORT,
–> 24/7 LIVE CHAT & COMMUNITY SUPPORT to answer all your questions and brainstorm together,
–> a RESEARCH TOOL showing the exact domain names and their availability,
–> THOUSANDS OF VIDEOS AND TUTORIALS explaining everything you need to know from choosing your niche, picking your domain name, writing content, choosing affiliate marketing programs, etc?
If you answered YES to the above, make sure to check out my #1 RECOMMENDED PLATFORM and Get Started Right Away!
How to use WordPress?
Before you can use WordPress, you need to install it on your web server or create a free account on WordPress.com. Once WordPress is installed, you can start creating content.
You can create posts and pages, add media, and install plugins and themes.
How to Create Content on WordPress
If you want your content to actually get results (i.e., drive traffic and conversions), you need to create it with intention. Luckily, creating high-performing WordPress content isn't difficult.
WordPress supports three main types of content: posts, pages, and media. Let's take a closer look at each one.
Posts In WordPress
Posts are the entries that make up your blog.
They appear in chronological order on your blog home page, with the most recent post appearing first. You can also organize your posts into categories and tags, which makes it easier for readers to find the posts they're looking for.
Additionally, posts allow interaction, allowing your readers to leave you comments and create a conversation with the author. You can create an unlimited number of posts in WordPress.
As a matter of fact, what you a reading right now is a post in WordPress! It has a date, therefore WordPress has arranged it chronologically with all my other posts. Also, Unlike pages, it has the option to leave me comments and reach out to me directly!
Pages In WordPress
Pages are static pieces of content that don't change often.
They're typically used for information that you want to be easily accessible, like your About page or Contact information. Unlike posts, pages don't appear in chronological order on your website.
Media In WordPress
Media is any type of file that you upload to your website, like images, videos, or PDFs.
You can use media files to add visuals or other forms of multimedia to your posts and pages.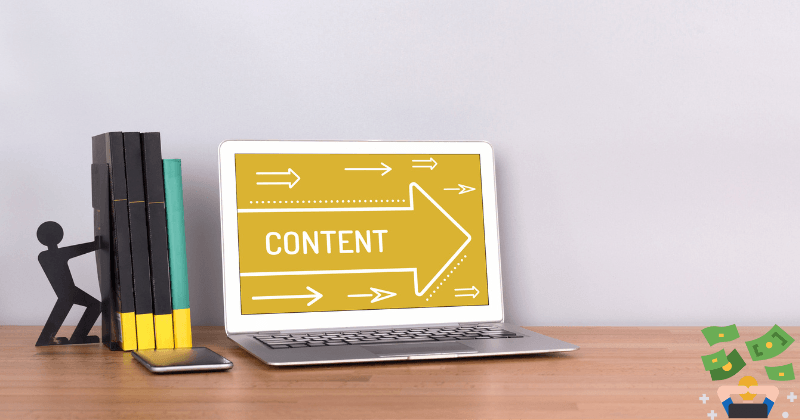 How To Create Content That Ranks?
Creating content that ranks well and brings you results takes a bit of time and effort, but it's definitely worth it. Here are the main steps that will make sure to bring your content in front of the right audience.
Make Sure Your Website Is Optimized For SEO
If you want your content to rank in search engines, your website needs to be optimized for SEO (search engine optimization).
This means ensuring your website is structured so search engines can understand, and including elements like title tags and meta descriptions that help improve your visibility in search results.
Fortunately, there are a number of WordPress plugins that can help with this, including Yoast SEO and All in One SEO Pack. These plugins make it easy to optimize your website for SEO without having to know much about code or spend hours doing research.
Related: SEO For Content Writing: 13 Strategies For Beginners
Start With A Keyword Research
If you want your content to rank in search engines and drive traffic, you need to start with keyword research. Keyword research is the process of finding and choosing keywords that your target audience is searching for.
Related: How To Search For Keywords For A Website And SEO: FREE Keyword Tool
There are a number of different ways to do keyword research. My preferred method of doing keyword research is using a keyword research tool. You can find the tool I use in this article.
Once you've chosen a couple of potential keywords, it's time to start creating your content.
Choose A Catchy Headline
Your headline is what appears in search results and gives people an idea of what your article is about before they even click through to read it. So it's important to make sure your headline is both accurate and attention-grabbing.
A good rule of thumb is to keep your headlines under 60 characters so they don't get cut off in search results, and use rich keywords (i.e., keywords with a high monthly search volume) so people can easily find your article when they're searching for something specific.
Write Compelling Meta Descriptions
A meta description is a short paragraph of text that appears under your headline in search results.
Like your headline, meta descriptions should be accurate and attention-grabbing but they should also be concise (under 155 characters) so they don't get cut off in search results. We recommend including a call-to-action (CTA) in your meta description as well so people know what they should do next (e..g., "Click here to learn more").
Format Your Post For Easy Readability
No one wants to read huge paragraphs of text—especially on the internet!
So when formatting your post, use shorter paragraphs (2-3 sentences each), plenty of white space, and subheadings (H2s and H3s) so people can easily skim through your article and find the information they're looking for quickly.
Include Images, Videos, Or Infographics
People are visual creatures—which means including images, videos, or infographics in your posts can help break up the text and make your articles more interesting and engaging.
Just make sure any visual elements you include are relevant to the topic at hand and add value for the reader.
Edit And Proofread Before Hitting Publish
Once you've written and formatted your post, it's important to edit it for spelling and grammatical errors as well as clarity before hitting publish—no one wants to read an article full of typos!
If editing isn't really your thing or you're worried about missing something, I recommend running spell check in Microsoft Word or using a free online editing tool like Grammarly before publishing directly on WordPress.
Hit Publish And Promote
Congratulations—you did it!
Now all that's left to do is hit publish on WordPress and promote your post on social media or through email marketing so people actually see it. The more people see your content, the better results you're likely to get.
Conclusion
WordPress is a great platform to create content that will bring you results. By following these simple tips, you can create high-performing WordPress content that will help improve your visibility online and drive traffic and conversions!
If you have questions about how to use it, let me know in the comments below. I'd be happy to help!
SAVE and SHARE & SHOW you CARE!
– Tatiana
from My Freedom Hustle
Are you done with your 9-to-5? Looking for a way to express yourself and make money on your own terms?
Look No Further!
Wealthy Affiliate
Wealthy Affiliate is the only platform you need to successfully start and run your online business. This is my TOP RECOMMENDATION for its training, tools, (technical) support and free hosting.