You've decided you want to get into affiliate marketing. Congratulations! Affiliate marketing is a great way to make money online. But before you can start making money, you need to choose your niche. But how to choose your niche for affiliate marketing?
This article will give you valuable tips to do just that!
This post may contain affiliate links. Affiliate links are great!
Why? Because by purchasing through these links you to contribute to the growth of this website at no cost to you. Basically, you are helping me grow this blog so I can continue help people like you and me become even more awesome!
For more information please see Affiliate Disclosure.
What Is A Niche And Why Do You Need To Choose One?
What Is A Niche?
A niche is a particular area of interest or expertise. It can be a market niche, like the niche for vintage cars, or a niche within a field of study, like the niche for animal behavior.
Related: How to Find Your Niche in Blogging: Proven Ways
The word "niche" comes from the Latin word for "nest," and just as birds nest in specific places that offer food and shelter, businesses and individuals often find niches that offer them the best chance to succeed.
Why Do You Need To Choose A Niche?
Choosing your niche is an important step in affiliate marketing. Your niche is what will define your website and your brand.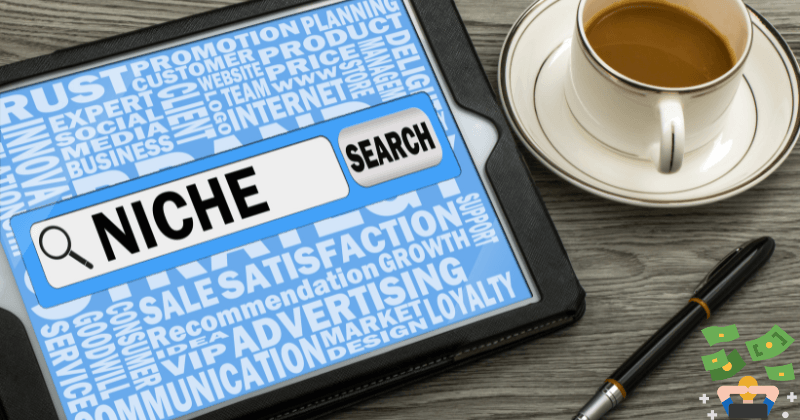 It's important to choose a niche that you're passionate about because that will make it much easier to write content and promote products that you believe in. It will determine what type of products you promote, who your target audience is, and what kinds of marketing strategies you'll use.
It's also important to choose a niche that is profitable. There's no point in spending hours upon hours creating content for a website about a topic that no one is interested in.
Can I Choose Anything As A Niche?
Many aspiring affiliate marketers make the mistake of starting out in a niche that's too broad.
They think that by casting a wide net, they'll have a better chance of attracting more customers and making more sales. However, nothing could be further from the truth.
If you choose a niche that's too broad, you'll end up with a lot of competition and very little direction.
On the other hand, if you choose a niche that's too narrow, you might not be able to find enough products to promote or enough people to market to.
The key is to find a happy medium—a niche that has enough people interested in it to give you a good shot at making sales, but isn't so competitive that you'll get lost in the shuffle.
Top Tips On How To Choose Your Niche For Affiliate Marketing Success
1. Define Your Interests
The first step in choosing your affiliate marketing niche is to define your interests.
What are you passionate about? What do you enjoy talking about? These are the types of topics you should be considering for your website. If you have trouble coming up with ideas, take some time to brainstorm with friends or family members.
Once you have a list of potential topics, it's time to move on to the next step.
2. Analyze the Competition
Once you have a list of potential topics for your website, it's time to start analyzing the competition.
Use Google to search for websites in your potential niche and see what comes up. Take a look at the first few pages of results and see what kind of content is already out there. If there are already a lot of websites in your potential niche, that's not necessarily bad. It just means you'll need to work harder to make your website stand out from the crowd.
Additionally, you would want to make sure there's enough demand for the products you want to promote.
What if I told you that I know just the right platform for you, which offers:
–> FREE HOSTING,
–> 24/7 TECHNICAL SUPPORT,
–> 24/7 LIVE CHAT & COMMUNITY SUPPORT to answer all your questions and brainstorm together,
–> a RESEARCH TOOL showing the exact domain names and their availability,
–> THOUSANDS OF VIDEOS AND TUTORIALS explaining everything you need to know from choosing your niche, picking your domain name, writing content, choosing affiliate marketing programs, etc?
If you answered YES to the above, make sure to check out my #1 RECOMMENDED PLATFORM and Get Started Right Away!
Use Google Trends to see if there's been a recent uptick in interest in your chosen niche, and check out popular forums and social media groups to see what people are saying about it.
You should also consider whether there are enough affiliate programs available in your chosen niche. After all, what's the point of promoting products if there isn't any way for you to make money off of them?
Thankfully, there are plenty of affiliate marketing programs available, no matter what your niche might be. Did you know that you can find relevant affiliate programs for your niche using the Jaaxy keyword research tool?
3. Choose a Profitable Niche
The final step in choosing your affiliate marketing niche is to choose a profitable one.
There are two main ways to do this: research keyword difficulty (check this free keyword research tool to do that) or use Google AdSense Keyword Planner Tool.
Researching keyword difficulty will give you an idea of how hard it will be to rank for certain keywords in organic search results.
Related: How to Find Quality Keywords
4. Be Passionate About What You're Promoting
It's also important to be passionate about what you're promoting—otherwise, it'll be very difficult to stick with it long-term.
If you're not genuinely interested in the products in your chosen niche, it'll be difficult to write engaging content or come up with creative marketing strategies. Plus, if you're not passionate about what you're doing, it'll be hard to stay motivated when things get tough and trust me, things will get tough, especially when you are a beginner.
5. Consider Your Skills and Experience
Another essential factor to consider is your skills and experience.
You don't need to be an expert in your chosen niche. Nobody is an expert when they only start out.
However, you do need to have a genuine interest in the topic or niche that you choose. You need to like reading about the topic, researching it, and writing your blog posts about it. Once you do that consistently and for a certain period of time, you will inevitably become an expert in your niche.
There's nothing wrong with starting small and working your way up—in fact, it might even give you an advantage over some of your more experienced competitors!
Which Niche is Best For Affiliate Marketing in 2022?
The affiliate marketing industry is always changing. What worked last year might not work this year and what works this year might not work next year.
So, which niche is best for affiliate marketing in 2022? Here are a few of the most promising niches for affiliate marketing:
Health and Wellness Products
The health and wellness industry is booming and it shows no signs of slowing down.
Affiliate marketers who focus on promoting health and wellness products will have a lot of opportunities in the upcoming year. There are a wide variety of products to choose from, including supplements, fitness equipment, healthy food, and more. And, with more people than ever before focusing on their health, there is a growing demand for these products.
Home Improvement Products
Another promising niche for affiliate marketing in 2022 is home improvement products.
This niche includes a wide range of products, from appliances to furniture to home décor. And, with more people than ever working from home, there is a growing demand for products that can make the home office more comfortable and efficient. Home improvement products are also a great option for affiliate marketers who are looking for high-ticket items to promote.
Clothing and Accessories
The clothing and accessories niche is always popular, but it is especially promising for affiliate marketing in 2022.
This is due to the fact that there are a number of major fashion trends that are expected to take off in the upcoming year. For example, vintage clothing and sustainable fashion are both trending at the moment. And, as more people turn to online shopping, there will be even more opportunities for affiliate marketers to promote clothing and accessories brands.
Final Thoughts
Picking the right affiliate marketing niche is vital if you want to be successful with this venture.
These days, there are affiliate marketing programs available for just about any type of product or service imaginable—which means there's an opportunity for just about anyone with an internet connection to get involved in this lucrative side hustle. However, before diving headfirst into affiliate marketing waters, it's important to take some time to choose the right niche for your business. Keep these tips in mind as you search for a profitable and sustainable affiliate marketing niche!
In case of any questions, feel free to ask me in the comments section below.
SAVE and SHARE & SHOW you CARE!
– Tatiana
from My Freedom Hustle
Are you done with your 9-to-5? Looking for a way to express yourself and make money on your own terms?
Look No Further!
Wealthy Affiliate
Wealthy Affiliate is the only platform you need to successfully start and run your online business. This is my TOP RECOMMENDATION for its training, tools, (technical) support and free hosting.