Welcome to this tutorial on 'How To Use Gutenberg Editor In WordPress', where we will be talking about WordPress, the two WordPress editors, blog posts, making blog posts beautiful and posting them efficiently. Let's get into it!
Gutenberg is a new editor for WordPress that is designed to make creating posts and pages simpler and more efficient.
The editor is named after Johannes Gutenberg, who invented the printing press in the 15th century, and it provides a similar level of control over the layout of your content. One of the key features of Gutenberg is the use of blocks, which are modular elements that can be rearranged to create different layouts.
This post may contain affiliate links. Affiliate links are great!
Why? Because by purchasing through these links you to contribute to the growth of this website at no cost to you. Basically, you are helping me grow this blog so I can continue help people like you and me become even more awesome!
For more information please see Affiliate Disclosure.
How To Enable Gutenberg Editor In WordPress?
The Gutenberg editor is a game-changer for WordPress.
It's a whole new way to create and format your content, and it's something that every WordPress user should try out.
First, go to Settings > Writing in your WordPress admin panel. Under 'Default editor for all users', choose Block editor and then press Save on the bottom of the page.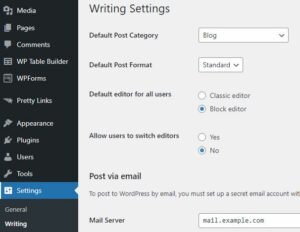 Now you have Block editor set-up as the default editor in your WordPress.
That means that every new page or post that you will want to create or edit will now open using Gutenberg block editor.
But what about old posts that were created using WordPress classic editor?
Nothing to worry about! Old posts can be simply converted to blocks (and make use of full functionality of Block editor).
To do that, after having saved your settings in WordPress to Block editor (as described above) open any of your old posts. On top of the post you will see the option saying: 'Convert to blocks'. Simply click that button and WordPress will recognise your text and automatically place it into blocks. It is that easy!
You ca now edit each individual block or create new ones as you wish.
How To Use WordPress Gutenberg?
One of the best things about the Gutenberg editor is that it lets you easily add blocks of content.
What if I told you that I know just the right platform for you, which offers:
–> FREE HOSTING,
–> 24/7 TECHNICAL SUPPORT,
–> 24/7 LIVE CHAT & COMMUNITY SUPPORT to answer all your questions and brainstorm together,
–> a RESEARCH TOOL showing the exact domain names and their availability,
–> THOUSANDS OF VIDEOS AND TUTORIALS explaining everything you need to know from choosing your niche, picking your domain name, writing content, choosing affiliate marketing programs, etc?
If you answered YES to the above, make sure to check out my #1 RECOMMENDED PLATFORM and Get Started Right Away!
It is a block-based editor, which means that rather than working with one long stream of text, you can break your content up into individual blocks.There are tons of different blocks available, so you can really customize your content to match your style.
What are Blocks in WordPress Block Editor?
Blocks are modular elements that can be used to create different layouts for your content. There are multiple types of blocks available, each with its own function. For example, there are blocks for adding images, video, audio, quotes, lists, and more. You can also create custom blocks for specific purposes.
Blocks can be inserted into your post or page via the toolbar at the top of the screen. Alternatively, you can type "/" followed by the name of the block you want to insert (e.g., "/image").
Once a block has been added, you can click on it to edit its content or change its settings.
All blocks have additional editing features, which can be found under 'Block' tab on the right hand side.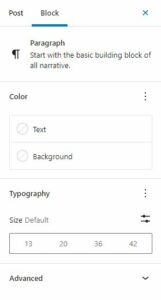 Some blocks also have additional options that can be accessed by clicking on the "More Options" button in the toolbar.
Types of Blocks in WordPress Gutenberg Block Editor
There are two types of content blocks in WordPress Gutenberg: default blocks and custom blocks.
Default blocks are those that come pre-installed with WordPress such as paragraphs, images, headings, etc.
Custom blocks are those that are added by plugins or themes (such as the testimonial block).
To add a default block, simply click on the "add block" icon and select the block from the list. For custom blocks, you will need to install a plugin or theme that provides them.
Once you have added all the content blocks you want, simply click on the "Preview" button to get a glimpse of how your content will look like on your website. If you are happy with the results, click the "Publish" button to make your post or page live.
Creating a Basic Layout Using Block Editor
Now that we've covered what blocks are and how they work, let's go over how to create a basic layout for your content using them. We'll start by adding an image block and uploading an image file from our computer.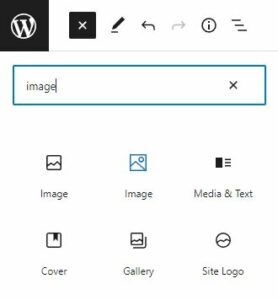 Once the image has been inserted, we'll add a text block underneath it and type out some text.

Next, we'll add a quote block by typing "/quote" into the toolbar. We'll then type out our quote in the text box that appears and hit enter.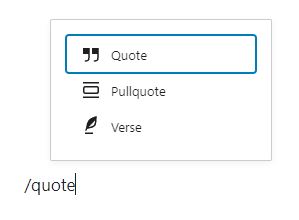 Underneath our quote block, we'll add a video block and paste in a video URL from YouTube.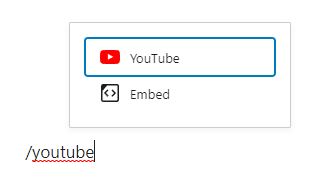 And that's it! We now have a basic layout for our content using various types of blocks.
WordPress Classic Editor vs Gutenberg – Which One Should You Use?
When it comes to creating content, WordPress offers two different editors for its users – the Classic Editor and the Gutenberg Editor. So, which one should you use?
The Classic Editor
The Classic Editor is the editor that has been around for years and is the default editor in WordPress.
It's a simple yet powerful editor that allows you to easily create and format your content without having to learn anything complicated. If you're new to WordPress, this editor is definitely for you. It will make your life much easier and help you get started with creating content quickly.
However, compared to Block Editor (Gutenberg Editor), the Classic editor has way less opportunities of creating beautiful layouts and graphics.
The Gutenberg Editor
The Gutenberg Editor is a newer editor that was introduced in WordPress 5.0.
It's a block-based editor that allows you to easily create complex and rich content by simply adding blocks of text, images, videos, etc.
This editor is great for those who want to create more complex content. You can easily create custom blocks for your content which makes this editor even more powerful.
Overall, the Gutenberg Editor is a great choice if you want more control over your content.
Related:
How To Create Content On WordPress That Will Get You Results?
How Do You Create A Free Landing Page (On A Website) – A Beginners Guide
SEO For Content Writing: 13 Strategies For Beginners
How To Create A Perfect Blog Post And Hook Your Readers
FAQ
What are the benefits of using Gutenberg block editor?
Gutenberg is a block editor that allows you to easily add and format content on your WordPress site. Here are three more reasons why you should switch to Gutenberg today:
It's Easy to Use
Gutenberg is user-friendly, even if you've never used a block editor before. The interface is well-designed and easy to navigate. Plus, there are plenty of tutorials available if you need a little extra help getting started.
It Saves Time
Gutenberg is a huge time-saver. With its drag-and-drop interface, you can quickly add content to your posts without having to fumble around with code. And because it's so easy to use, you'll be able to publish your posts faster than ever before.
It's Flexible
Gutenberg is also incredibly flexible. Whether you're creating a simple blog post or an elaborate landing page, Gutenberg has the blocks you need to get the job done.
Ready to Quit Your 9-to-5 & Start Working For Yourself?
Can I Switch To Gutenberg block editor If I Am Already Using WordPress Classic Editor?
Yes! You can switch over to the Gutenberg block editor. Follow the steps in the beginning of this tutorial to make the switch in your WordPress account.
What Are Reusable Blocks In WordPress Gutenberg?
Reusable blocks in WordPress Gutenberg supercharge your workflow by allowing you to save and reuse blocks of content. Whether you're working on a blog post, page, or custom post type, this feature can save you a ton of time.
To create a reusable block, simply create a new block or edit an existing one. Once you're happy with the content, click on the "More Options" menu (it looks like three dots) and select "Add to Reusable Blocks."
You can then give your block a name and click on the "Save" button. Your block will now be saved for future use. To access your saved blocks, click on the "Blocks" menu and select "Reusable." Here, you'll see all the reusable blocks that you've created.
To use a reusable block, simply click on the "Blocks" menu and select "Reusable." Find the block that you want to use and click on the "Insert" button. The block will be inserted into your content at the current cursor position.
Final Thoughts
The Gutenberg editor is a great way to take your WordPress content to the next level.
It makes creating posts and pages simpler by allowing you to add content using modular blocks. This makes it easy to experiment with different layouts until you find one that works for you.
If you've been looking for a way to add more customization and flexibility to your posts and pages, then the Gutenberg editor is definitely worth trying out.
Give it a try yourself and see how easy it is to create beautiful layouts for your WordPress site!
Would you like to quit your 9-to-5 and start your own business while working for yourself? Would you like to learn how to create your very own website and share your passions and interest while making a full-time income? Check MY #1 RECOMMENDED place to get started today!
Are you already using Gutenberg block editor? Or do you prefer the functionalities of WordPress Classic editor?
– Tatiana
from My Freedom Hustle
Are you done with your 9-to-5? Looking for a way to express yourself and make money on your own terms?
Look No Further!
Wealthy Affiliate
Wealthy Affiliate is the only platform you need to successfully start and run your online business. This is my TOP RECOMMENDATION for its training, tools, (technical) support and free hosting.