Are you curious about affiliate marketing? Would you also like to start making money online passively? This post will cover the Shopee affiliate program review, which aims to answer all your questions and beyond.
We will cover what Shopee is, why it is a great platform and yet why it might not be so great to promote as an affiliate marketer.
Read on to learn more!
This post may contain affiliate links. Affiliate links are great!
Why? Because by purchasing through these links you to contribute to the growth of this website at no cost to you. Basically, you are helping me grow this blog so I can continue help people like you and me become even more awesome!
For more information please see Affiliate Disclosure.
Overview: Shopee Affiliate Program
Name: Shopee Affiliate Program
Website: https://shopee.com
Founded: 5 February 2015
Founder: Billionaire Forrest Li
Headquartered and originally launched in: Singapore
Offer: Online digital market place (e-commerce) for mostly physical products
Products: Wide range, from clothing and beauty to computers and home appliances
Affiliate program: Yes
Affiliate program available in: limited countries (only 6, see below)
Commission level: Between 3% and 30% depending on whether the customer is new or existing
Overall rating: 2 out of 5
PROs of Shopee Affiliate Program
1. High Affiliate Commissions For New Customers
2. Big Variety Of Products To Promote
3. High Affiliate Commissions For New Customers
CONs of Shopee Affiliate Program
1. Shopee Affiliate Program Is Only Available In 6 Countries
2. Big Gap Between Commission For New Or Existing Customers
3. Capped Commission At Check-out Level
---
Does Shopee Have An Affiliate Program?
Yes, Shopee does have an affiliate program for certain countries (Singapore, Thailand, Indonesia, Vietnam, Taiwan and The Philippines).
Shopee has a wide range of products on their platform. It is an e-commerce platform where the sellers display their products for the customers to purchase directly or via affiliate links of affiliates.
If you live in the above mentioned countries it is very likely that you might have already purchased something from them. Once you are familiar with their products and services, it is easy to start promoting and recommending them via your affiliate links and earn commissions for each sale you make.
How Do I Start An Affiliate Shopee?
There are no costs to join the affiliate program. Once you have created an account and requested to join their affiliate program you will need to wait on their acceptance decision.
To sign up, you will need a phone number or a Facebook account, Gmail account or Apple account.
Who is Shopee Affiliate Program for?
There are 2 most important conditions that you need to fulfil in order to be able to participate in Shopee affiliate program:
You need to promote Shopee products only in the countries where the affiliate program is available (see above); and
You need to be able to find products on the platform that are relevant to your own niche.
Additionally, it is good to get informed regarding Shopee commission levels and structure as well as payment structures and understand exactly what you can expect once you become a Shopee affiliate.
Are you looking for ways to make (more) money online?
Want to be Your Own BOSS?
Why Should I Become A Shopee Affiliate (Pros and Cons)?
Pros Of Shopee Affiliate Program
---
1. High Affiliate Commissions For New Customers
As an affiliate you can earn between 21.2% and 30% commission for each sale made to a new customer. The commissions are however much lower for existing customers (3%-4.5%)
2. Big Variety Of Products To Promote
Shopee platform offers a wide variety of mostly physical products to promote.
That also makes it more likely that some products will be part of your niche and therefore relevant for you to promote.
3. Quite Easy Application Process
The application for the Shopee affiliate program is fairly easy and straightforward, without trial periods or entrance fees.
Cons Of Shopee Affiliate Program
---
1. Shopee Affiliate Program Is Only Available In 6 Countries
The only countries that you can promote Shopee products via their affiliate program are: Singapore, Thailand, Indonesia, Vietnam, Taiwan and The Philippines.
This is a limitation because only the people residing in these countries would purchase the products via your affiliate links.
Additionally, if you are an affiliate marketer that not does reside in any of these countries or has no affinity with them (do not know the language for example), it might be very difficult to promote Shopee products successfully.
2. Big Gap Between Commission For New Or Existing Customers
The affiliate commission is 15%-25% lower for existing buyers compared to new ones. That means that as an affiliate marketer you need to mostly focus on getting new buyers to purchase via your affiliate link.
In turn that means fewer earnings, given that the same amount of effort usually goes into bringing in new customers and existing customers.
3. Non-Recurring Commission Structure
The affiliate commission is paid only once for each of the affiliate sale made. That is less advantageous compared to recurring affiliate commissions, where the sale is made only once and the commissions keep rolling in on a monthly basis.
4. Capped Commission At Check-out Level
That means that regardless of how much a customer purchases via your affiliate link, the maximum amount of commission you can earn is capped (RM50 for Malaysia).
FAQ
How Do You Get Paid On Shopee?
According to Shopee terms and conditions, the payment takes place within 60 days of the system approval.
That means that the commissions that are earned in current month, will be paid by the end of next month.
Shopee Complaints
ComplaintsBoard have registered a variety of complaints against Shopee platform.
Majority of them relate to unprofessional behavior of sellers, delivery issues and unfulfilled orders, wrong or damaged products being delivered, customer service complaints, etc.
The reason why this is important is that as an affiliate marketer it will be more difficult to promote products of a company that the customers do not like.
Additionally, you need to promote products and services of companies that you trust yourself, that you have ideally tried out yourself and are happy with.
Do I Recommend Shopee Affiliate Program?
The answer is: it depends.
The most important factors that it depends on are listed under the section "Who is Shopee Affiliate Program for?" above. Also, it depends on whether you can convince your customers of good Shopee products despite the many reported complaints (as mentioned above).
It depends also on how skilled you are in bringing new customers in consistently and skilled in affiliate marketing in general. It takes a lot of focused effort and time to attract new customers to your affiliate links.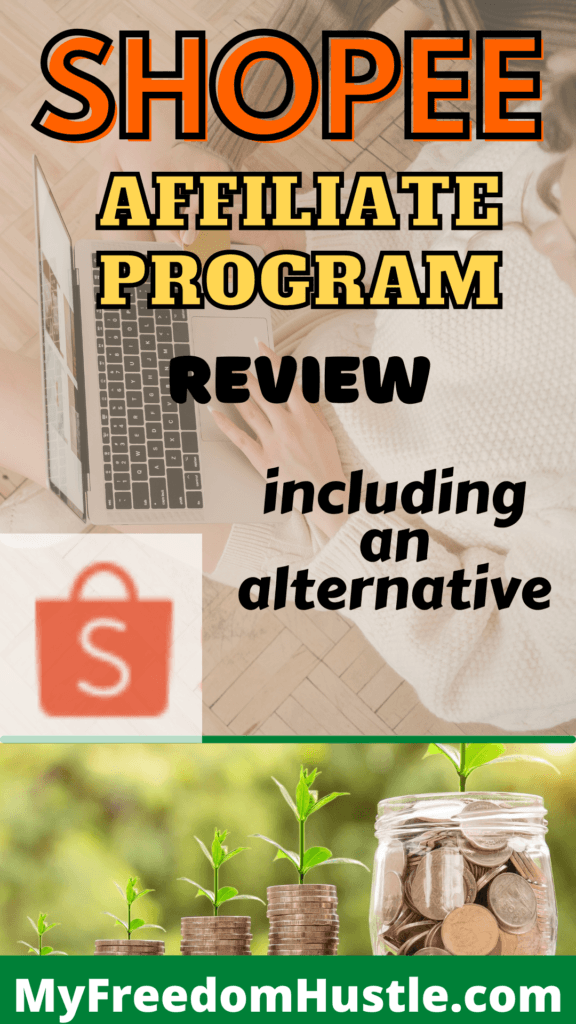 Is There A Better Alternative To Shopee Affiliate Program?
In my opinion, a better affiliate marketing platform is the one that teaches affiliate marketing and blogging.
The one that helps new affiliate marketers learn how to start blogging for free.
A platform provides users with all the tools and resources they need to get started.
One that offers a community of like-minded individuals who can offer support and advice.
–>WEALTHY AFFILIATE offers all the above and much more! <–
Some Key Benefits That Wealthy Affiliate Can Offer YOU:
E Learning platform, offering affiliate marketing, blogging and online business classes;
Make money through affiliate marketing;
Free membership for first 7 days;
Recurring affiliate commission structure;
Online learning via E-Learning;
Other useful tools and services included (such as keyword research tool and technical support);
Make friends among the WA community;
Help other people become successful online.
>> Learn more about Wealthy Affiliate in my review HERE <<
But does it really work? Can Wealthy Affiliate really help you make money online blogging as a beginner? Is Wealthy Affiliate a Scam?
All the above are valid worries!
Check out the testimonials below of some happy folks sharing their experiences with Wealthy Affiliate:
In conclusion
Overall, Shopee is a great affiliate marketing platform if you are an experienced affiliate marketer who promotes in one of the above mentioned countries and whose niche is among Shopee's products.
However, if you are a beginner in affiliate marketing and would like to learn the first steps into performing affiliate marketing correctly, Wealthy Affiliate might be a better option for you.
The reason for that is that WA platform, not only offers the possibility of earning recurring affiliate commissions but also teaches, supports and helps you at each step of the way.
I am happy to see that you have made it so far down this article.
I will be my pleasure to see you joining the platform and creating the life of your dreams for yourself and the loved ones!
Join me in our Hustle towards Freedom!
– Tatiana
from My Freedom Hustle
Are you done with your 9-to-5? Looking for a way to express yourself and make money on your own terms?
Look No Further!
Wealthy Affiliate
Wealthy Affiliate is the only platform you need to successfully start and run your online business. This is my TOP RECOMMENDATION for its training, tools, (technical) support and free hosting.