So you've decided to start your very own blog and express yourself through blogging. But how do you do that? How do you start blogging? Also, are you on a tight budget? If so, how to start blogging for free?
In this article, I will be discussing what is a blog, how to start blogging and how to start blogging for free.
Let's dig into it!
This post may contain affiliate links. For more information please see our Affiliate Disclosure.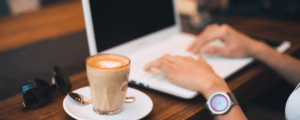 What Does Blogging Mean
Blogging refers to creating and sharing content on the internet, typically through a blog or website. Blogging can be a hobby, a form of expression, or a way to earn income.
There are many types of blogs, ranging from personal blogs to corporate blogs.
Personal blogs are typically written by an individual, and can be about anything from the person's daily life to their thoughts on current affairs.
Corporate blogs are usually written by a team of writers, and tend to focus on topics related to the company's industry or products.
Blogging can be a great way to connect with others, share your thoughts and experiences, and build an audience for your writing.
Why Should I Start A Blog?
You should start a blog if you like to share your thoughts and ideas with the people that are interested in the same subject.
If you have a hobby or an interest, it is very likely that you cannot stop talking about it!
Let's say that I ask your friends and family to tell me what kind of person you are. Do you think they might mention that you passionate about, let's say: traveling, cooking or blogging? Would they say that each time you meet, you just cannot stop talking about the last place you visited or that last keyword research method that you have been using?
If you recognize yourself in the lines above, chances are you have been chosen! 🙂
Just think about it, you would have your own space to share your thoughts and experiences. You would write about what you like and how much you like. You would get in touch with other people with similar views and interests. Maybe, you would even monetize your blog and eventually make a living from blogging.
All of this is possible when having a blog!
How To Start Blogging
If you're thinking about starting a blog, there are a few things you should keep in mind:
First, decide what you want to write about.
Consider what you're passionate about or what you know best. This will help you choose a topic that you can write about with ease and enthusiasm.
How To Choose A Topic For My Blog?
Choosing a topic to write about can be daunting. There are so many options and so many ways to approach any given subject (or niche).
However, there are a few key questions that can help you to zero in on the perfect topic for your blog post, article, or essay.
1. Your Passions
First, what are you passionate about? What are the things that you can't stop thinking about?
Chances are, if you're obsessed with a subject, your readers will be too.
2. (Be) YourSelf
Second, what do you have to say that is unique? What is your personal angle on the issue?
This is what will make your voice stand out from the crowd.
3. Your Knowledge
Finally, what do you know that others don't? What information or insight can you share that will help your readers to see the world in a new way?
Answering these questions can help you find a topic that is both compelling and original.
What Do Bloggers Do?
1. Bloggers Write Content
There's no one answer to this question since bloggers can write about virtually anything they want.
No matter what they choose to write about, bloggers typically aim to provide their readers with interesting and engaging content. Blogs are a great way for people with different interests and perspectives on life to connect. They provide interesting, engaging content that's worth reading!
Bloggers come in all shapes and sizes, but they all have one thing in common: they love to write. Some bloggers write about their personal lives, while others write about current events or their favorite topics. But no matter what they write about, bloggers are united by their love of writing and their desire to connect with others.
2. Bloggers Promote Their Content
Just like any artist, a blogger needs to promote their work if they want to find success. Spending hours writing content is only half the battle – if no one reads your blog, then all that effort was for nothing.
Fortunately, there are a number of ways to get the word out about your blog posts.
Start by sharing your content on social media platforms like Twitter and Facebook. If you have a mailing list, send out an email blast whenever you publish a new post.
And don't forget the power of good old-fashioned word of mouth! If you tell your friends and family about your blog, they'll be more likely to check it out – and maybe even share it with their own networks.
By taking some time to promote your content, you can attract more readers and build a loyal following for your blog.
3. Bloggers Keep Learning And Improving Themselves
It's true that bloggers never stop learning and improving their website.
Just when you think you've got it all figured out, something new comes along to keep you on your toes.
Whether it's a new plugin or an updated version of WordPress, there's always something to learn. But that's part of the fun of being a blogger – there's always something new to explore.
So if you're feeling a little lost, don't worry – we've all been there. Just keep learning and improving, and pretty soon you'll be an Expert Blogger!
Is Blogging Easy?
Blogging can be easy, but it can also be challenging at times. It all depends on how much effort you're willing to put into it and how dedicated you are to making your blog successful.
Being a blogger is easy. Anyone can do it.
Just set up a website, write some things, put up some pictures, and voila – you're a blogger.
But being a successful blogger? That's a different story.
Are you looking for ways to make (more) money online?
Want to be Your Own BOSS?
If you want to stand out in the blogosphere, you need to put in the work.
You need to be interesting, informative, funny, or all of the above. You need to engage with your audience and give them a reason to come back for more.
So if you're looking for an easy way to make a quick buck, blogging is not for you. But if you're willing to put in the time and effort, it can be a rewarding experience – both for you and your readers.
Is Blogging For Me (You)?
It takes a certain type of person to be a successful blogger.
You need to be someone who loves to write and who enjoys doing research. You also need to be organized and self-motivated. If you have these qualities, then blogging can be easy.
Consistency is key when it comes to blogging. You need to be able to keep your readers engaged by posting fresh content on a regular basis.
If you can do this, then you'll quickly build up a loyal following of dedicated readers. And that's when the real fun begins!
There are many rewards to being a successful blogger.
For starters, you can make a lot of money.
You can also become famous and have your pick of the best jobs.
But perhaps the best reward of all is the ability to help others.
As a successful blogger, you can share your insights and knowledge and make a difference in people's lives.
How Do Beginner Bloggers Make Money?
There are a number of ways to make money as a blogger.
Most beginners start with one (or a combination) of the following methods: advertising, affiliate marketing, digital products, and services.
1. Sell advertising space on your blog.
Advertising is probably the most common way to make money from a blog. This can be done through banner ads, text links, and sponsored posts (when a company pays you to write about their product), Google Adsense, etc.
2. Sell products or services through your blog.
This can be done by setting up a store on your blog or by selling products through affiliate links.
3. Own products and services
Many bloggers also sell digital products such as e-books and online courses. Some offer services such as coaching or consulting.
Whichever method you choose, be sure to put in the work required to drive traffic to your blog so that you can maximize your earnings potential.
How To Start A Blog For Free In 2022?
Blogging can seem scary, especially if you've never done it before.
So where do you start? How do you get people to read your blog? And how do you make money from it?
These are all valid questions that can be easily answered by someone who has been successful at blogging.
If you're teachable and willing to put in the work, blogging can be a fun and profitable hobby. However, it's always helpful to have someone who has been there before to show you the ropes.
Wealthy Affiliate is such a place.
It is a platform that teaches affiliate marketing and blogging.
It's a great way to learn how to start blogging for free.
The platform provides users with all the tools and resources they need to get started.
It also offers a community of like-minded individuals who can offer support and advice.
Overall, Wealthy Affiliate is a great option for anyone interested in learning how to blog or affiliate marketing.
Why Do I Recommend Starting With Wealthy Affiliate?

Wealthy Affiliate has taught me everything I know about:
How to start a blog;
How to be successful blogging;
What to blog about;
How to promote my blog; and
How to make money blogging as a beginner.
Therefore, I believe that WA is an all-in-house type of platform for anybody interested in learning, blogging and making money online.
Some key benefits that Wealthy Affiliate can offer you:
E Learning platform, offering affiliate marketing based in Canada;
Make money through affiliate marketing;
Free membership for first 7 days;
Recurring affiliate commission structure;
Online learning via E-Learning;
Other useful tools and services included (such as keyword research tool and technical support);
Make friends among the WA community;
Help other people become successful online.
>> Learn more about Wealthy Affiliate in my review HERE.<<
But does it really work? Can Wealthy Affiliate really help you make money online blogging as a beginner? Is Wealthy Affiliate a Scam?
All the above are valid worries!
Check out the testimonials below of some happy folks sharing their experiences with Wealthy Affiliate:
Conclusion
Blogging can be a lot of things: an outlet for your thoughts, a way to connect with others who share your interests, or a platform to share your story.
Maintaining a blog takes time, effort, and commitment.
You need to be able to come up with fresh content on a regular basis, interact with your readers, and promote your blog if you want it to be successful.
But even though it's not always easy, blogging can be incredibly rewarding. Seeing your hard work pay off as your blog grows and develops is an amazing feeling, and it's one that makes all the challenges worth it in the end.
So if you're thinking about starting a blog, go for it – just be prepared for some bumps in the road along the way.
Additionally, this article also provided you with an all-in-one platform that has all the tools and services in-house to help you through all those bumps.
Have you heard about Wealthy Affiliate before? How did you start blogging?
Let me know in the comments below!
This Platform Will Change Your Life!
– Tatiana
from My Freedom Hustle