Canva is probably the most popular and widely used by all online business owners and entrepreneurs. Heck, even me as a complete beginner with my blog, Pinterest, YouTube channel, Instagram and Facebook, found myself heavily depending on Canva. In this article I will reveal important facts about how to use Canva for beginners that you do not want to miss out!
This post may contain affiliate links. Affiliate links are great! 
Why? Because by purchasing through these links you to contribute to the growth of this website at no cost to you. Basically, you are helping me grow this blog so I can continue help people like you and me become even more awesome!

For more information please see Affiliate Disclosure.
Canva For Beginners
For anyone who is not a designer and not as creative like me, the thought of creating attractive visuals can be daunting. 
However, Canva has the solutions for everybody!
Canva is a user-friendly platform that makes it easy for beginners to create stunning graphics with no design experience required. With a library of built-in templates and easy-to-use tools, Canva is the perfect place to start for anyone looking to create beautiful visuals.
As you can see, it has everything available in one place, you just need to create your own account and start creating your own amazing pieces of art! Learn to use Canva and discover a new world of opportunities and an ocean of designs.
How To Use Canva For Free
The best part about Canva is that it has a free account!
Of course, the free Canva membership has a lot less features than the Pro version but trust me, it is well darn worth it!
As a beginner, I have been using Cavna for business by creating featured images for my blog posts, Pinterest pins, Pinterest videos, Instagram posts, thumbnails for my YouTube channel, Facebook posts, everything really! 
Here is the full comparison between the free and Pro Canva account: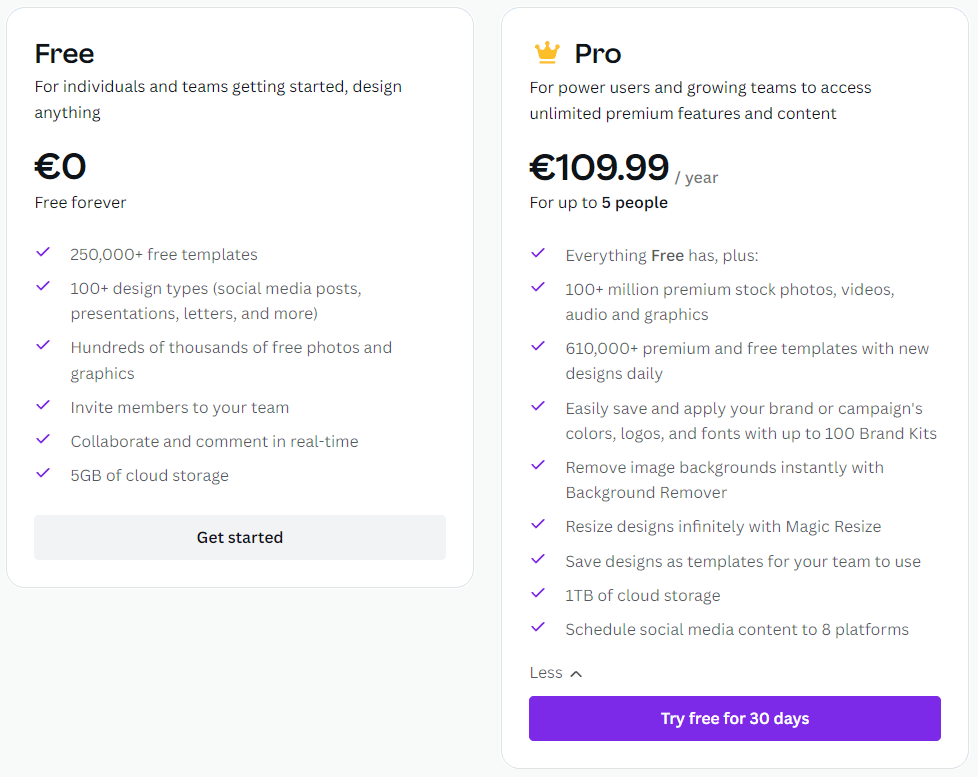 Source: Canva.com
Advantages of using Canva
There are so many things that I love about Canava, simply because it allows you to create all the content you need for most of the purposes.
Most important advantages of Canva (free account):
Choice of 250,000+ pre-made templates to get inspiration from

Allows to choose the design size for your purpose, be it YouTube thumbnail, Pinterest Pin, or a custom size

Thousands of free images, videos, elements and graphics to choose from for your next design. If that is not enough, Canva also has Pixabay and Pexels (both free stock images platforms) for additional inspiration

Upload your own images, videos and designs to further integrate and edit with Cavna

Photo filters to make them brighter, clearer, etc

Crop, turn, duplicate, flip images and elements and adjust their transparency 

Add text on top of your images or videos, change the font of your text and apply various effects

You do not need to start each of your designs from scratch every time. You can start from an older design (which Canva saves for you) and adjust the elements you wish

Download all your designs directly to your computer for free

Work on the same account together with a team mate

Etc, etc, etc
Are you looking for ways to make (more) money online?
Want to be Your Own BOSS?
Above list is by far not complete. There are so many features and opportunities that Canva provides that it is too many to list. 
How To Use Canva For Beginners
Below I will outline how to use Canva for your business and all the ways in which Canva has helped me with mine.
1. Create a logo with Canva
The very first thing that I have done for my online business is go to Canva and create my logo. 
The reasons I think it is important to have a logo is twofold: 
First, you would like to create an image that would resonate with you personally and would inspire and bring happiness each time you look at it. This way you can always remember what it is that motivates you to keep hustling for your business
Secondly, a logo helps your audience identify you and give a meaning for your brand. For example, the logo of MyFreedomHustle.com shows a human head and shoulders relaxing while there is money coming in.  For me personally, it represents the freedom that hustling on my side business brings me by earning passive income. For my readers, the logo can mean the things that they are willing to achieve by reading my blog: getting rich, working less, working online, make money online, make money while you sleep, etc.
Whatever the meaning of my logo for each and every one of my readers, it is there to be unique and meaningful for them and me, whichever their goals might be.
2. Create featured images for your blog with Canva
Nobody likes to land on a website that is heavily populated by text and there is no interactivity. Luckily, apart from inserting images in the main body of an article, you can also upload featured images. 
What is a featured image?
A featured image is an image that is featured on a website. It is usually the first image that people see when they visit the website (on the home screen).
3. Create Pinterest Pins and videos with Canva
Creating in Canva for Pinterest is probably the feature that I use most frequently. That is because I simply love Pinterest! It is the absolute must-have (just like Canva) for bloggers and people who create content online.
Luckily, as mentioned above, Canva has the pre-defined Pinterest Pins template size available in its directory. Once selected, there is a choice of hundreds of thousands of templates that you can use for inspiration in creating your pin, or just upload your own. 
You can then upload directly to Pinterest (Pro version only) or download and upload manually to Pinterest.
Did you know you can also upload videos to Pinterest? 
You can upload your videos either as a 'traditional' pin or as an Idea pin.
4. Create YouTube thumbnails with Canva
This is a feature I still use a lot for my YouTube channel (for my conure parrot). 
I love using this feature because I do not need to think about the size that the thumbnail needs to be, I can just upload my image, apply the filters that I need (usually make it clearer and brighter), optionally I add text or duplicate the images to create a mirror effect and done! 
5. Create designs for POD with Canva
If you are in the Print On Demand (POD) business, you would know how easy it is to create designs in Canva and upload them to various POD platforms like: Redbubble, Amazon Merch on Demand, TeeSprint, etc.
Creating designs for POD is so easy and straightforward as Canva allows for custom sizes as well as for text and image designs. Therefore, happy designing!
Pro Tip: Canva Free account does not allow you to remove background from your designs. That means that you can only create designs with a background colour. While for other (social media) platforms that is not an issue, for your POD designs you would want to be able to remove the background from your creations.
A free option that I have discovered is Remove.bg which allows removing the background for free. Just upload your image…and done! 
Sometimes the result is not 100% accurate. Luckily Remove.bg offers the option to "correct" the faulty areas by using the Edit button on the top right side, from the pop-up window select Erase or Restore function, the size of the brush and use it directly on the image to correct it.
To Conclude
So there you have it! You are now a Canva pro!
Well, maybe not a pro, but at least you know what you can create using this user-friendly platform. If you're feeling creative and want to experiment with more design features, head on over to the Canva website and check out all of the amazing things they have in store for you. 
And if you ever get stuck or need help with something specific, don't hesitate to reach out to the wonderful community of fellow Canva users who will be more than happy to assist, or me :). Happy designing!
In case of any questions, feel free to ask me in the comments section below.
Are you secretly dreaming of having your own online business and being your own boss? Do you want to learn how to have a website, just like this one? Check out my #1 RECOMMENDATION at no risk to you!
You will get: free training, website hosting, 24/7 technical support, 24/7 community support, loads of lessons and tutorials to get you started and keep you going and a lot more. ALSO, you will get a privileged chance of getting guided and helped by me personally!
Don't believe me? CHECK IT OUT for yourself!
SAVE and SHARE & SHOW you CARE!
– Tatiana
from My Freedom Hustle