Do you think you need a logo for your business? Do you think you need a new, upgraded logo that better reflects what your content is all about? In this article on how to create a logo in Canva, I will discuss two methods of creating a logo using Canva.
This step-by-step tutorial is created in Canva free plan. I do not have a pro account. That means that anybody is able to create their very own logo using the techniques that I show in this tutorial. So let's get started!
This post may contain affiliate links. Affiliate links are great!
Why? Because by purchasing through these links you to contribute to the growth of this website at no cost to you. Basically, you are helping me grow this blog so I can continue help people like you and me become even more awesome!
For more information please see Affiliate Disclosure.
What Is A Logo?
A logo is like a fingerprint – it's unique to your business and should be instantly recognizable. It's the first step in building your brand, a way to communicate what your business is all about. And it's a way to differentiate yourself from your competition.
Why do I need a logo?
First of all, a logo is important for yourself as a business owner. It represents the idea behind my business and it involves the positive vibes behind all my content. The second reason why you want to have a logo is because it helps everybody identify you.
What Is The Use Of Canva
Canva is a user-friendly platform that makes it easy for beginners to create stunning graphics with no design experience required. With a library of built-in templates and easy-to-use tools, Canva is the perfect place to start for anyone looking to create beautiful visuals.
Here is a preview of what you can create using the free Canva account:
Choice of 250,000+ pre-made templates to get inspiration from
Allows to choose the design size for your purpose, be it YouTube thumbnail, Pinterest Pin, or a custom size
Thousands of free images, videos, elements and graphics to choose from for your next design. If that is not enough, Canva also has Pixabay and Pexels (both free stock images platforms) for additional inspiration
Upload your own images, videos and designs to further integrate and edit with Cavna
Photo filters to make them brighter, clearer, etc
Photo effects to make them look artistic 🙂
Crop, turn, duplicate, flip images and elements and adjust their transparency
Add text on top of your images or videos, change the font of your text and apply various effects
You do not need to start each of your designs from scratch every time. You can start from an older design (which Canva saves for you) and adjust the elements you wish
Download all your designs directly to your computer for free
Work on the same account together with a teammate
Etc, etc, etc
Why do I need a logo?
First of all, a logo is important for yourself as a business owner. From my own experience, the logo represents the idea behind my business and it involves the positive vibes behind all my content. It is therefore important for me as a business owner to look at my logo and identify my work and the values and principles that I am running my business by.
For example, the logo of MyFreedomHustle.com is a human figure having money flying all over it. The human figure is sitting leaning back on a chair or on a beach bed while the money keeps coming in. This logo, to me, represents the fact that money does not have to be difficult to make. It represents the idea of a passive income, of working smarter in order to create systems that will generate income to be able to live a free life.
This logo can mean and can represent a lot of other things for my audience. For example, for someone it can represent the fact that once they start blogging or once they start their online business, they can make a lot of money. For other people for example, it means that once they understand how to do blogging correctly, they will sit back and relax and enjoy blogging everyday as this is what brings them pleasure. Whichever the meaning it has for you or for your audience, a logo is important in reminding yourself first of all and then your audience why they're reading your content and why you keep doing what you're doing every day.
The second reason why you want to have a logo is because it helps everybody identify you. For example, someone might land on your website and they might be impressed by your content. The next time they want to read your content, they cannot find you, as they didn't bookmark your page. But they did remember a colour or a shape or one word as part of your logo. That is what will help them find you the second time.
Would you like to rather listen to this article? Check out the video below!
How to create a logo in Canva?
Creating a logo in Canva is probably the easiest way to create a logo.
There are two methods that I'm going to talk about when it comes to creating a logo using Canva. The first method is the easiest and the quickest way, while the second one can take a little bit longer. However, the second method can provide a little bit more personalisation and creativity. Let's get started with the first method.
Method Number One: Create A Logo With Canva Using A Template
The first thing we want to do is go to Canva homepage. On the homepage, you'll see a search bar.

In that search bar, type "logo" and click enter. If you want to be more specific, you could also for example, type a search term closer related to your niche, like "fashion blog".
As you can see, there are tons of examples and tons of templates available for us to use. Just scroll down and pick one that you that resonates mostly with you. Here's an example of the search results that I got when I typed "fashion logo":
As you can see Canva has so many options and so many templates that you can choose from. You can use elements as well as text for your logo. When you have chosen your template, you can then start editing it. Here are some things you could do:
change the colour of the elements or of the text
replace the elements and choose the one that you think fits better with your business and your niche
make the elements bigger or smaller, or turn them around
adjust the transparency of your elements for example, so that the text pops up more
change the colour of the text
change the size of the text and its colour based on the colours of the elements that you have previously chosen
change the font of the text included in the template
Method Number Two: Creating A Logo From Scratch
We're going to start on the home screen again. On the top right hand side we're going to see a button which says "Create a design". Click on that button and search for "logo".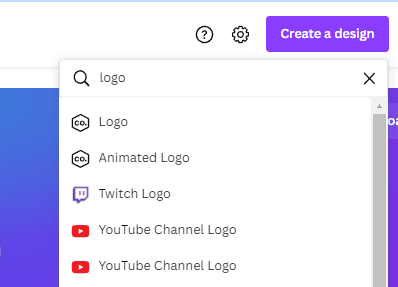 From the dropdown menu, select "logo" and a new tab will open with a logo frame. With this method we are going to create the logo from the very beginning. See the walk-through video below:
The first thing that I did was to choose a background colour. In my case, I chose bright yellow. From the colour palette, I have chosen a brighter yellow colour.
Next, I went to the Elements section and I typed in the search bar a relevant search term. I have then chosen a high heel shoe as my first element which I have changed the colour of. Next, I searched for a second element to add to my logo, which is a bag. I then adjusted the bag and sent it to the back from my first element: the shoe and adjusted the colour as well.
Next, I have selected both elements together and grouped them into one element. Now I can move them on my logo frame as one single element.
Next, I have chosen the text option. Feel free to scroll down and see all the available templates and choose one that you think fits better. Next add the name of your blog, adjust the colour of the text and add an effect, in this case the splice effect.
That was it, my logo is ready!
Conclusion
I hope you have enjoyed this step-by-step tutorial of creating a logo in Canva for beginners, using a free account. I have used the techniques that I have used when creating my own logo or my other content, be it for my blog, for my YouTube channel, or for my Pinterest account.
If you have any questions on this tutorial or would like to get in touch, feel free to leave me a comment in the section below.
Also, let me know if you are using Canva already for your business, I am curious to know.
Are you secretly dreaming of having your own online business and being your own boss? Do you want to learn how to have a website, just like this one? Check out my #1 RECOMMENDATION at no risk to you!
You will get: free training, website hosting, 24/7 technical support, 24/7 community support, loads of lessons and tutorials to get you started and keep you going and a lot more. ALSO, you will get a privileged chance of getting guided and helped by me personally!
Don't believe me? CHECK IT OUT for yourself!
SAVE and SHARE & SHOW you CARE!